Saturday 10/28
WakeMed Soccer Park
101 Soccer Park Dr
Cary, NC, 27606
Apple Maps | Google Maps
Admission = Free
Other Regionals are at WakeMed Saturday. Traffic could be a little crazy. Expect races every 30minutes when arriving (for example, 9:10am & 9:40am possible road closings due to racers on course).
Awards at 12:15pm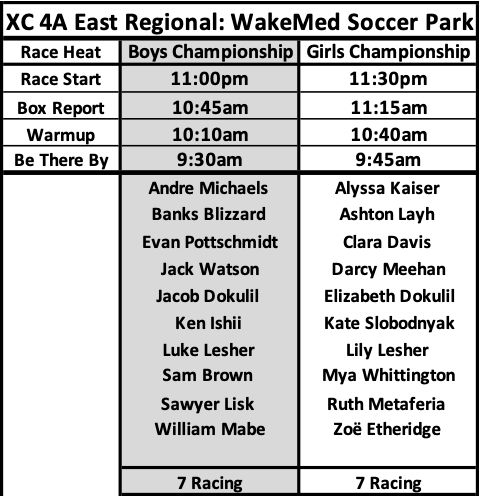 From the start you head downhill for approximately 550m.
It runs flat until about the 1050 mark.
There is a gradual, winding hill that is approximately 250m in length.
The course then flattens out for 150m then you head back down hill for 150m.
It runs flat for the next 150m, which brings you past the 1 mile mark.
You then head back up the same hill that you started down.
After cresting the hill at the starting line, you run flat for approximately 450-500m. Then the course heads down hill, and you begin a series of fairly steep rolling hills (2) that are crested just as you reach the 2 mile mark.
There is a long gradual downhill for approximately the next 300m.
The course runs flat from about 3600m until about the 4400m mark.
The final climb is running up the starting hill one last time and then you run flat for the last 90m into the finish.